CANYONVILLE — Early Wednesday morning, more than a dozen foresters stood on a gravel turn off on Cow Creek Road, west of Glendale, looking over a viewpoint into a canyon below.
WILL GESCHKE | The News-Review | May 11, 2023 | Updated May 11, 2023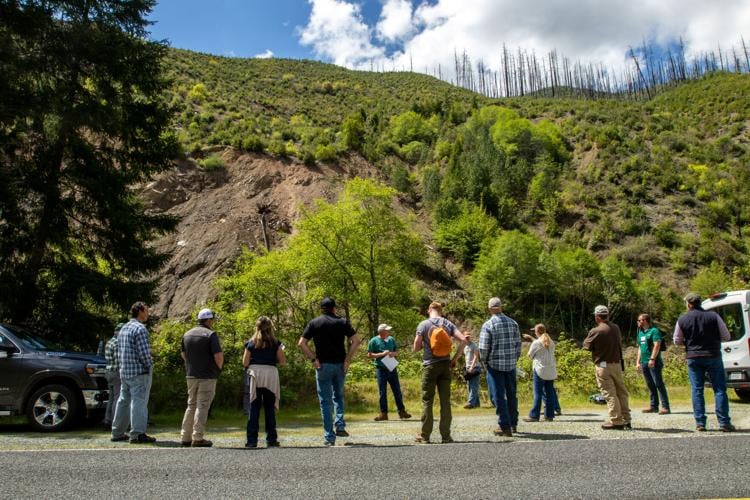 Ten years earlier, the Douglas Complex Fire, which began as a total of 54 separate fires ignited by lightning, raged through 49,000 acres of forest lands in the Southwest area of Douglas County, engulfing the very ground they were now standing on.
Now, people from across Oregon — students, retirees with decades of experience and professionals in government land management and timber harvesting — gathered over that canyon to learn from one another about the process of recovery after a wildfire and how best to prevent one in the future.
The Oregon Society of American Foresters began its annual three-day meeting Wednesday, bringing together industry professionals for their first conference held in Douglas County since 2014. During the event, foresters have the opportunity to learn from one another and discuss important issues the industry is facing.
During the first day of the meeting, three tours were hosted by the organization, one focusing on forest health and regrowth, one focusing on recovery efforts following the Archie Creek fires, and one focusing on post-fire restoration on different ownerships in the O&C lands.
O&C stands for the Oregon and California Railroad Revested Lands, a group of lands making a checkerboard pattern across eighteen counties in Oregon, and containing more than 2.4 million acres of forest.
According to the Bureau of Land Management, in 1866, the United States congress established a land grant to promote construction of a railroad from San Francisco to Portland, and granted the Oregon and California Railroad company approximately 12,800 acres for every mile of railroad track laid, provided they sold 160 acre parcels at no more than $2.50 an acre to settlers.
After rail companies failed to sell the land, congress took back the title on the over 2 million acres of land in 1916, which is now spread across the state of Oregon, and on many occasions, borders directly with land owned by private timber companies.
While overlooking the canyon near Cow Creek Road on the "Recovery and Restoration through Time" tour on the O&C lands, foresters heard from representatives from the Cow Creek Tribe of Umpqua Band of Indians, Douglas Forest Protective Association, Bureau of Land Management and Roseburg Forest Products, about both historical and contemporary restoration techniques. For college students like Shelene Davis and Gabriel Hakimoglu, who attend Mt. Hood Community College in Gresham, hearing the discussion was invaluable for their learning.
"It's nice to hear different perspectives from all the different industries, because a lot of them, at times, conflict, but there's also common ground there," Davis said. "It definitely makes me a more well rounded resource professional, just to hear all these different voices. You can learn this from a book, but then you talk to the people who are actually working, and you're like, this is how things are actually going."
"Sometimes, when you're going to school, it can be a bit wary, like 'Oh, what am I going to do next?'" Hakimioglo added. "Talking to these people, you can kind of get an idea of what sorts of things you'll be doing."
DFPA District Manager Pat Skrip said collaboration between fresh young minds and experienced foresters in the industry is important to keep innovating and bringing new ideas to the table to help fight fire.
"When you share that information, share lessons learned across different parts of the state, there might be an opportunity to implement those successes somewhere else without having to reinvent the wheel," Skrip said. "So when people come to these conferences, the takeaway is to get those ideas and build a network."
Wednesday's "Recovery and Restoration through Time" tour took foresters through three different sites that were burnt in wildfires — first was the Douglas Complex fire, which burned in 2013, then the Horse Prairie fire in 2016 and the Milepost 97 fire, which burned in 2019 — giving foresters a perspective on how restoration can look in a forest across different time frames in a single decade.
Whitney Henneman, a member of the Umpqua chapter of the Oregon Society of American Foresters, was the chair of the field trip to the various destinations Wednesday. She was excited to see the industry come together for the three-day event.
"I think, as professionals, we can learn a lot of lessons," Henneman said. "Ten years isn't that long if you're a tree, but we can learn a lot from our mistakes or how to do things differently. We're ever-evolving, and I think that's important in the name of science, as far as keeping engaged and learning."
For the foresters who took part in the day-long tour, it was just the beginning — two more days of lectures, discussion and networking follow, at the conference held at the Seven Feathers Casino Resort in Canyonville.
Earlier that morning, Jennifer Bryant, the cultural resources manager for the Cow Creek band of Umpqua Tribe of Indians, began her presentation about the historical fire prevention and restoration practices of the Native Americans in the region with a prayer.
"It is becoming early in the morning in the East," Bryant said in Takelma, the tribe's once-extinct native language that Cow Creek members are attempting to restore. "This morning, the Cow Creek people are blessed. Today, the people here and those away are blessed. In the north, south, east, west, our people are blessed. Because of the Earth, the water, the sky, our kinspeople are blessed. Because of this, I am glad. We ask to help to know more. We are wise people, we are Cow Creek. Everything is good."
Will Geschke is a multimedia reporter for The News-Review. He can be reached at wgeschke@nrtoday.com.