By: Jamie Parfitt | www.kdrv.com | Feb 16, 2022
SALEM, Ore. — The Oregon Department of Forestry announced Wednesday that it has issued $20 million in grants for "landscape-scale" projects designed to reduce hazardous fuels and reduce wildfire risk across the state.
The funding will specifically go toward nine projects submitted by nonprofit organizations and community partners to treat 156,000 acres across Oregon's forest and rangelands considered at highest risk of catastrophic wildfires.
ODF said that the state's grant program will bring $15 million in matching funds from federal, state, private, and like-kind investments.
Here are the projects slated to receive funding, many of them in Southern Oregon: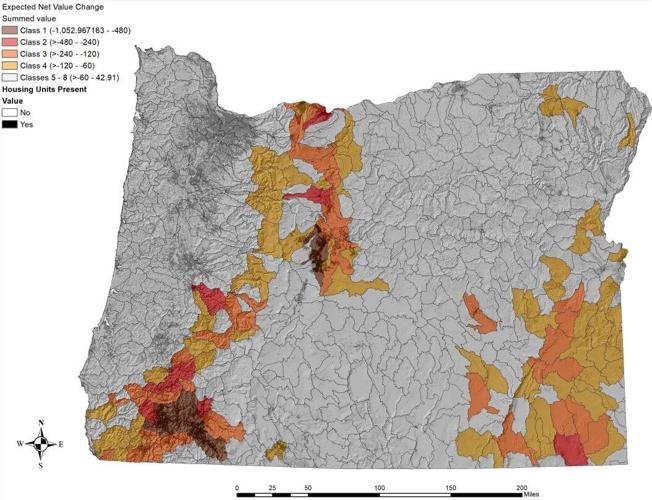 Lower Rogue Oak Resiliency Project
Ashland Forest All-lands Restoration (AFAR)
Wasco County Forest Resilience Project
Southeast Oregon Wildfire Resiliency Project
Laurel Butte Landscape Resiliency Project
Landscape Resiliency in the Upper Applegate Watershed
Central Oregon Shared Stewardship Landscape Resiliency Project (COSSLRP)
West Bear All-Lands Restoration
Upper John Day Valley Landscape Resiliency Project
"The department convened a work group of diverse stakeholders that included federal land partners and representatives of the timber industry and environmental conservation communities to establish grant criteria and evaluate proposals," ODF said. "The work group recommended their top ranked projects to ODF, which was followed by a public comment period."
Like a similar $5 million round of wildfire resiliency grants announced earlier this week, the funding comes from Senate Bill 762, a bipartisan legislation package that provides more than $200 million to help Oregon modernize and improve wildfire preparedness.
ODF said that grant agreements are now underway, and work on some of these projects will begin this spring, ahead of the 2022 wildfire season. Most work will occur between now and the 2023 fire season, and must be finished by June 30 of next year.
Follow @KDRV12 on Facebook and @KDRV on Twitter for the latest news, sports, and weather in Southern Oregon and Northern California.